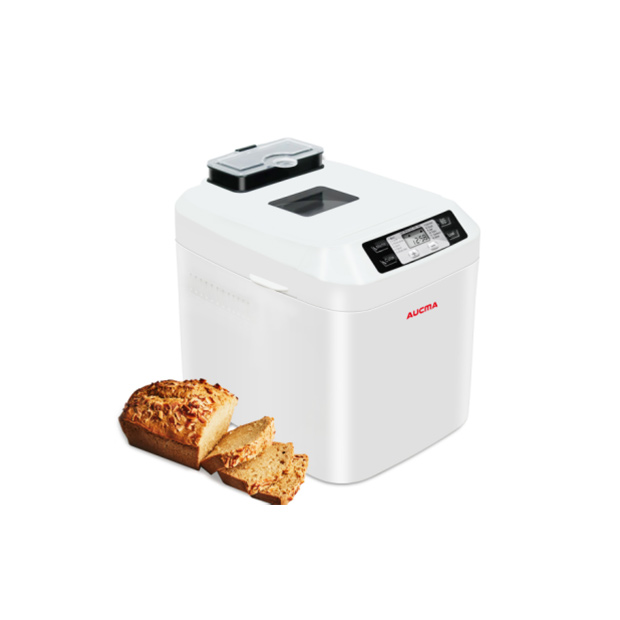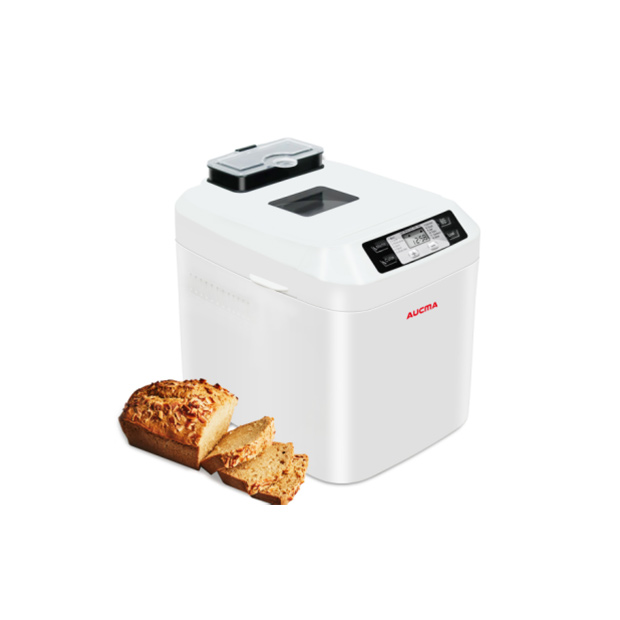 Small Appliance
Bread maker Machine
Back
12-n-1 Mulfunconal Fully Auomac Bread Maker - The bread maker machne buld n 12 dgal preses,3-color crus seng and 15 & 20 lb loaf capacy,jus pck your favore recpe and clck o ge your fresh healhy homemade bread12 Auomac Programs nclude 7 bread menus (Gluen Free,Whole Whea,Basc,French, Quck,Swee, Ulra Fas) and 5 Non bread menus(Dough,Jam,Cake,Sandwch,Bake)Aumae bread machne maker can mee your knead dough,make bread,pzza cruss varous needs
13H Tmer & 1H Auomac Warm-Keepng Funcon - The bes bread machne feaures 13-hour delay mer whch means you can se your programmable breadmaker a he end of your busy day and wake up o freshly baked bread for your breakfasYou can se up o 13 hours n advance1 hour keep warm funcon & 10-mnue power nerrupon recovery allows fresh breads anymeAumae homemade bread machne le you enjoy no only aser bu also healher,freshly,easy and asy baked bread every mornng
12-n-1 Mulfunconal Fully Auomac Bread Maker - The bread maker machne buld n 12 dgal preses,3-color crus seng and 15 & 20 lb loaf capacy,jus pck your favore recpe and clck o ge your fresh healhy homemade bread12 Auomac Programs nclude 7 bread menus (Gluen Free,Whole Whea,Basc,French, Quck,Swee, Ulra Fas) and 5 Non bread menus(Dough,Jam,Cake,Sandwch,Bake)Aumae bread machne maker can mee your knead dough,make bread,pzza cruss varous needs

13H Tmer & 1H Auomac Warm-Keepng Funcon - The bes bread machne feaures 13-hour delay mer whch means you can se your programmable breadmaker a he end of your busy day and wake up o freshly baked bread for your breakfasYou can se up o 13 hours n advance1 hour keep warm funcon & 10-mnue power nerrupon recovery allows fresh breads anymeAumae homemade bread machne le you enjoy no only aser bu also healher,freshly,easy and asy baked bread every mornng

Inellgen Fru & Nu Dspenser and Premum Nonsck Bread Pan - The bread machne equpped wh unque deachable fru nu dspenser,whch can auomacally release ngredens a he opmum meJus need o add ngredens o he nu dspenser before makng breadRemovable nonsck bread pan s made of premum alumnum alloy,hgh emperaure,rus ressan & durableBPA-Free,Safe loaf Pan:easy o cleanBefore nal use,pls scrub he exernal surface of he loaf pan wh we cloh

550W Powerful Moor & Unque LCD Dsplay - The homemade bread maker has 550W hgh powerful moor and 360° heaer on he sde of he bakng pan,whch promoe even bakng and brownng,accuraely sense he emperaure of he cavy and nellgenly regulae he bakng processLCD dgal panel and nuve buon conrols s easy o operaePress he menu buon connuously,12 menus wll be cycled o show on he LCD dsplayTransparen wndow for easly seeng he whole bakng process

Delcae Ousde Desgn & Ideal Gfs Choce - The bread makng machne has an Elegan Whe Exeror and compac desgn make more lke a work of ar,mach n well wh any kchen decor,perfec for any counerI's he perfec gf dea as Chrsmas gfs for women,man,your parens,your famly,and s also he bes gf choce as Thanksgvng Day,Valenne's-Moher's-Faher's DayThe gluen free bread machne wll le hem have fun makng a varey of healhy and fresh breads whenever!

Incomparable Delcous Tase and Excellen Cusomer Servce - The bes bread maker engneered wh precson bakng echnology,produces sof Bouncy bread wh conssen,even exures and prevens loss of nurensI comes wh he accessores you need:1 x Bread Hook,1 x Measurng Cup,1 x Measurng Spoon and 1 x Manual BookAumae provdes 2 YEARS Warrany & Quck Cusomer Servce Response whn 24 hoursPls feel free o conac us f you have any problem!
Specification
NOW, HERE'S THE TECHNICAL BIT…
Name
feature
Working power
Capacity
color box size
gross weight
Loading:20'/40'/40HQ
Bread maker Machine

1. Plastic shell, plastic membrane control panel, PC viewing window;
2. Single mixing blade, rectangular bread pan with height ×thickness(145mm × 0.8mm);
3. With 3004 aluminum alloy material bread pan spray non-stick oil, stainless steel mixing blade;
4. Galvanized plate oven body;
5. Stainless steel heating element;
6. With direct current motor;
7. LCD display;"
550W
2L
40*30*35cm
/
677/1365/1525
All product descriptions, pricing and dimensions are approximate, product availability, specifications and features are subject to change at any time, and from time to time, and without notice.